Spread the Good News! Share This Post: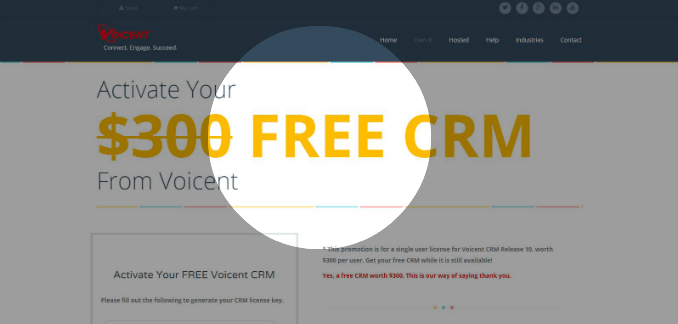 June 4 2015
In celebration of our new software release, you can get a free CRM worth $300 when you like, share, and follow Voicent! Featuring award-winning call center software, marketing automation and sales automation, and a redesigned state-of-the-art user interface, Voicent offers you a revolutionary new way of communicating and doing business.
Voicent's effortless communication platform features powerful, award-winning communication tools such as the Auto Dialer, Predictive Dialer, Email Marketing, bulk text/SMS, and call center tools. Create phone surveys or text/SMS surveys for polling and customer satisfaction feedback, or use appointment reminder software for event notifications. Plus, with just a few clicks, you can set up a professional phone system to handle inbound calls with Interactive Voice Response, and improve your customer service with automatic call routing, customizable extension transfers, and simultaneous call handling.
In addition, our new release comes with a CRM that can be seamlessly integrated with all your communication tools, web forms, and workflow, so you can accelerate every client's journey from prospect to your loyal customer.
Packed with more features than ever before, Voicent allows you to improve and automate business processes with ease and point-and-click simplicity. With the built-in Voicent CRM, you can automate customer engagement with workflow integration and event triggers. For example, when a prospect fills out a web form on your website, their information is automatically saved into your CRM, and a welcome email may automatically be sent to the prospect without you lifting a finger. In another instance, when your customer logs in for the first time on your website, this interaction is saved into the CRM, and another email may be automatically sent from your business with information on getting started. With Voicent's marketing automation and sales automation that are fully integrated with the Voicent CRM, you'll be able to maximize your organization's efficiency and profits.
Our promotional giveaway celebrates small businesses, large enterprises, call centers, non-profits, and government agencies of all sizes by making our CRM, which is worth $300 per user, available and free to everybody. To claim your own free CRM, all you have to do is like, follow, and share this promotion on social media.
Click here to claim your free CRM!
Spread the Good News! Share This Post:
What We Offer
Voicent gives you the tools to connect and engage with customers. We offer predictive dialers, auto dialers, marketing automation, inbound IVR handling, phone and text/SMS surveys, bulk SMS, email marketing, and more. Whether you're a small business owner, hospital, nonprofit, government agency, or a global call center, we're confident that our award-winning, feature-rich software will help you connect, engage, and succeed.