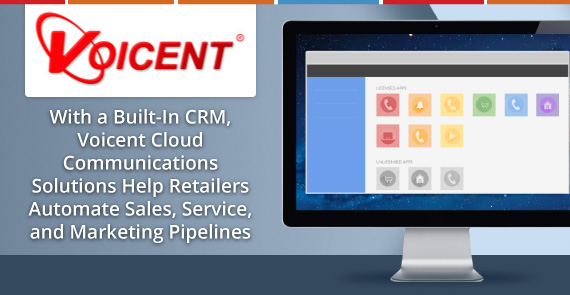 Feb 1, 2018
Voicent helps retail businesses connect and engage their customers
With a build-in CRM and call center-grade communication tools, the latest release makes communication effortless
MOUNTAIN VIEW, CA. February 1, 2018 -- Voicent was recently featured on Dealcrunch, a one of a kind news source for the latest stories in retails, for being an all-in-one communication platform that comes with a built-in CRM. See the news article on Dealcrunch here.
As Joe Wu, the CEO of Voicent, says, "The biggest challenge many SMBs have is choosing tools from different vendors, and none of the tools are data-centric. If you look at communication solutions, most are just to answer calls."
Indeed, Voicent strives to provide affordable solutions to small business owners, sales teams, retailers, and medical offices looking to give their customers the best experience possible. Products include appointment reminder software that integrates with existing EMR systems, auto dialers that let you upload a list of contacts and leave pre-recorded messages, predictive dialers, power dialers, two-way text messaging software, email tools, and even web site tracking. Plus, all products come with a built-in customer relationship management tool that allows unlimited imports.
At the foundation of Voicent is the company's goal to help people working in sales, service, and marketing, and to provide small businesses with the kinds of tools that allow them to effectively compete with Fortune 500 companies. In other words, Voicent creates top-notch sales, marketing and customer service software while keeping the software affordable for teams as small as 1, 2, or 3 people. At the same time, Voicent also uses its advanced technology to help government agencies and other businesses with limited manpower and resources.
According to a Voicent sales representative, "Large companies or organizations that have to handle large volumes of incoming customer communication, or send out large volumes of calls, emails, or texts, usually will stick to our on-premise solution. Because they have their own IT staff, they'll prefer to purchase and own the software, and then use it with their own phone service provider like Cisco, Vonage, Avaya, RingCentral, and so on."
Likewise, "people who don't have much IT knowledge or aren't very technical find our cloud solution extremely helpful and at the same time, extremely affordable. With our cloud service, they don't have to set anything up. They don't need their own phone service."
What We Offer
Voicent gives you the tools to connect and engage with customers. We offer predictive dialers, auto dialers, marketing automation, inbound IVR handling, phone and text/SMS surveys, bulk SMS, email marketing, and more. Whether you're a small business owner, hospital, nonprofit, government agency, or a global call center, we're confident that our award-winning, feature-rich software will help you connect, engage, and succeed.