Sample IVR Phone Survey
Voicent IVR Studio is the most complex tool on our platform. It is actually a full developer tool with support for programming. However, most phone survey apps are not that complicated and there is no need to learn the full scope of the tool.
The basic concept (no programming) of the tool is covered in the first chapter of IVR Tutorial.
The following sample IVR app is a simple 3 question survey. You can take it as your starting point for your app.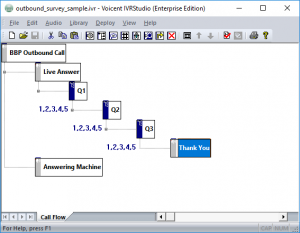 To download the sample app, click below:
Outbound Phone Survey Sample
Inbound Phone Survey Sample
How to handle wrong key and repeat the question?
If someone presses key 9 instead of the specified range 1 – 5, the system will play back some default message. If you want to change the prompt, you can add a go to element/node to handle that situation. The following is the updated call flow.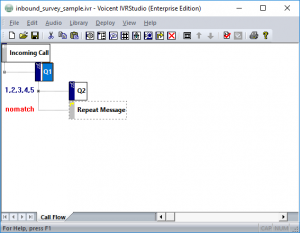 The Repeat Message node is defined as follows: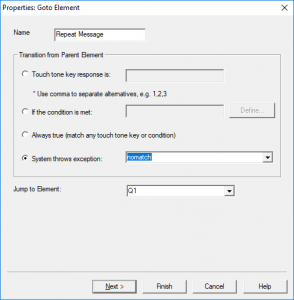 How to build a survey with tree-like questions and answers?
If your survey is a little more complicated, you can easily add branches to your survey. For example, with the sample survey, if someone presses 1 to Q1, you can ask a different set of questions. The updated call flow should look like below:
You can download the second version here.
Inbound Phone Survey Sample Version 2
For IVR text survey samples, please see here. Please also note we offer full app design service. If you are interested, please contact our sales.