Setup Voicent To Use Your Cisco PBX System
Step 1: Create IP Extensions
If you have Cisco's Call Manager, you should be able to setup IP extensions for IP Phones or Voicent software, Please check the user manual for your Cisco Call Manager. Normally you can find sections for configuring extensions for SIP softphones like X-lite. The following is generic information related to Cisco's CCM.
In Cisco's Call Manager, choose User Management > End User and create a username, giving it a username, password & PIN.
Travel to Phone Devices, by going to Device > Phone. Add a new device.
For the Phone Type, choose Third Party SIP Device, then click Next. For MAC Address, enter the extension preceded with zeros to make up a 12-digit number. For example, if your extension is 7777, enter 000000007777. The MAC address can be any 12 digit hex value. The only restriction is that it must be unique. The description is just a free form text field. There is no need to have the SEPxxxxxxxxxxxx value there. The call manager system uses that SEP value internally. It is technically the device name.
Other relevant settings:
Device Pool – Choose default
Phone Button Template – Third Party SIP Device (Basic)
Common Phone Profile – Standard Common Phone Profile
Location – Hub_None
Owner User ID – The user that you created above
Presence Group – Standard Presence Group
MTP Preferred Originating Codec – 711ulaw
SIP Phone Security Profile – Standard SIP Profile for Auto Registration
SIP Profile – Standard SIP Profile
Digest user – Same user as for "owner user id" above
Step 2: Configure Voicent Software
Open Voicent's Software, select Setup > Options > SIP tab, and click the Add button. Enter your extension information as shown below. Please remember to replace the setting values with your own extension info.
The domain name should be the IP address of your Cisco PBX system.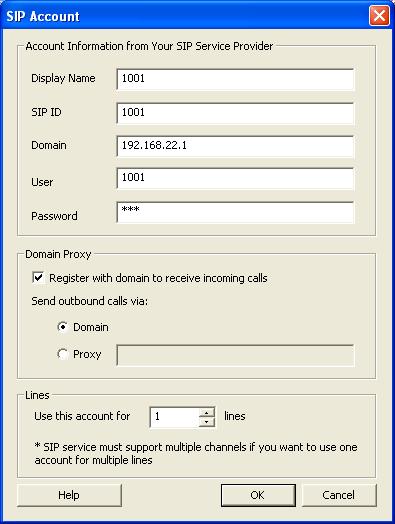 If you want to setup multiple lines, you need to repeat the steps to create additional extensions.