Setup Voicent To Use Your Talkswitch PBX System
Step 1: Create IP Extensions
If you have Talkswitch, first make sure it supports IP phones like Voicent Software. Please check the user manual for your
Talkswitch. Normally you can find sections for configuring IP extensions for SIP softphones like Counterpath or X-lite softphones. The following are generic instructions:
1. Launch the TalkSwitch Management software
2. Select the Local Extension/Fax page
3. Click the Add button. The Add User/Extension window appears
4. Set the Extension type to IP Extension
5. In a multi-unit system, select the TalkSwitch unit the extension will be associated with. This unit will hold the voicemail for the extension. Click Next
6. Enter the user's First Name and Last Name. The names are used for caller ID and the dial-by-name directory
7. Assign an Extension number
8. Select Counterpath as the Phone type. Click Finish
9. In the Extension tab, select the language for prompts heard by the user of the extension in the System Prompt Language list. Setting the prompt language will also change the language for text displayed on the phone itself
10. Choose File > Save. The system will create a configuration file that the phone will download when the phone is restarted
Please check with Talkswitch user manual to setup additional settings like caller ID
Step 2: Configure Voicent Software
Open Voicent Gateway, select Setup > Options > SIP tab, and click the Add button. Enter your extension information as described below.
Please remember to replace the setting values with your own extension info.
The domain name should be the IP address of your Talkswitch system.
1. Set the Display Name to the name of the Caller ID
2. Set the SIP ID to the local extension number
3. If setting up an internal IP extension, set Domain to the IP address of the TalkSwitch unit acting as local proxy
4. Set the username to the Username set up in step 3 of IP extension details area
5. Set the Password to the Password set up in step 3 of IP extension details area
5. Check the "Register with domain and receive incoming calls" checkbox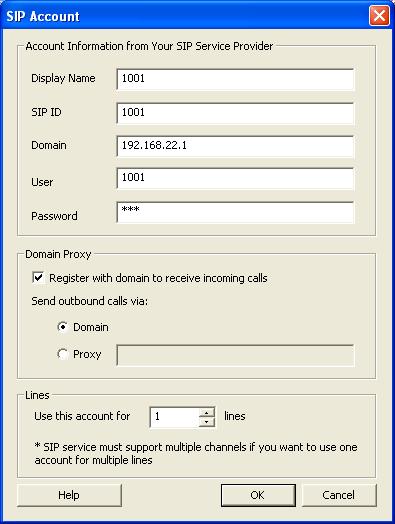 If you want to setup multiple lines, you need to repeat the steps to create additional extensions.