Troubleshooting SIP Configuration
If the Voicent App fails to start because it can't register with your SIP/VOIP provider, there's a few things you can do to identify the problem:
SIP Credentials
The first thing you should check is your SIP Credentials. You can do that by opening your Voicent App and selecting Setup and then Options. From here, simply select the SIP tab and then click on the number you're currently using, and click edit. You should see a series of credentials, like the following: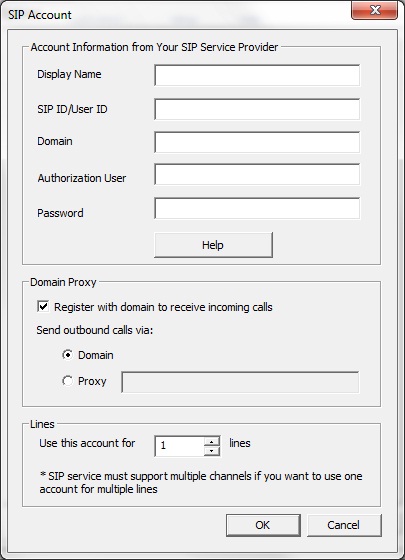 Please note for some SIP service providers, such as SkypeConnect and Vonage softphone, the SIP password is different from your account password. Login to your VOIP service provider's website to get the SIP password, or contact your service provider and ask for their softphone credentials in order to get the required information.
STUN server
If there is a firewall between your computer and your SIP service provider, you need to specify the STUN server on the SIP configuration page of the gateway. Some SIP providers offer their own STUN server, others don't. You could use free STUN servers like stun.xten.com.
For more help on STUN servers, take a look at our Network Troubleshooting Guide
Simultaneous Calls
Make sure your account supports multiple channels. For example, if you use Callcentric, please log in to your account, and under the preference section of your account, set "allow multiple calls".
Test your SIP connection with a softphone
Contact your SIP provider for its preferred softphone and ask for help to configure it. Once it is working, use the same settings for Voicent. Read our guide on
how to test your SIP service with a softphone for more information.
Check firewall program
You have to grant full access to Voicent App in order for SIP to work. For more information on how to allow full access to your Voicent software, try looking at our
Network Troubleshooting Guide.
If you still have problem, send your log files to us by selecting help > Report Problems… from the program main menu.