Setup Appointments And Reminder Calls
Using Voicent AutoReminder, you can set up appointment reminders for yourself, others, or a group.
Invoke the New Appointment Dialog by double clicking on the calendar area, the icon on the toolbar, or the New Appointment menu item from the main menu..
Setup attendee
You can choose <My Self>, select a contact from the drop down list, or type in the name. Select or type in the phone number. (The system remembers everything you typed in, so you can easily select them next time).
Select Group if there are multiple attendees. Select Add to add new attendee.
Set up appointment time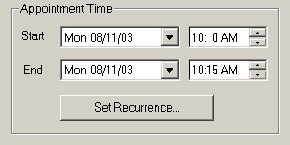 See Recurring Reminders for setting up recurring appointment and reminders.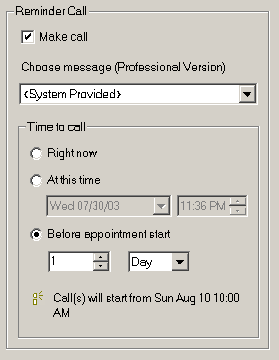 See Customize messages if you want to use your own reminder messages.
There are 3 ways to set the reminder call time. "Right Now" means call immediately after you click the Finish button. "At this time" means you choose the exact time to call. And "Before appointment start" means call before the appointment start time, such as 1 Day or 2 hours before the appointment.
See Include Text Using Text-to-Speech if you want to have appointment notes read to you by computer.
Click Finish to add the appointment and reminder call.