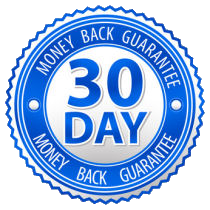 Advantages of Voicent's
Call Center Software

One time purchase, use forever
No monthly fee, no contract
Easy setup in less than 10 minutes
Works on any PC
Works with VOIP and PBX
Feature rich, yet easy to use
You can try it before you buy it

Learn More
Voicent CRM
Overview
A Powerful CRM Software Tailored Just For Your Business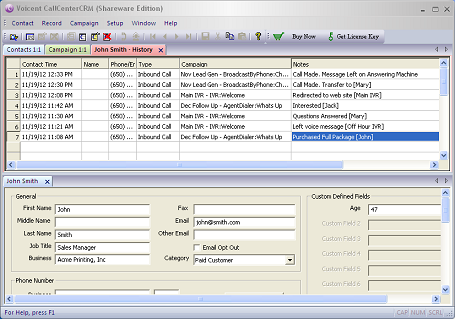 Key Features
Automatically keeps track of and saves customer interactions by phone, text message, and email.
Automatically saves customer's opt-out request and prevents calls in the opt-out phone numbers.
Manages customer profile and contact history with customizable fields and display options.
Automatically displays customer information in Agent Dashboard when calls are connected to agents.
Quick search customer profile.
Automatically create auto dialing and predictive dialing campaigns.
Auto-detect callers and direct callers to the appropriate department or agent.
With IVR Studio, Voicent CRM can play recorded messages, customized welcome messages that personalize customer experience when they call.
Design and manage sales and marketing campaigns based on location, buying preferences, sales activity, purchasing history or other differentiation.
Works seamlessly with all Voicent software including Agent Dialer, BroadcastByPhone, BroadcastBySMS and IVR Studio.
Plug-n-Play with your CRM
We've done the work for you already. Voicent CRM works with SugarCRM, Zoho CRM, and Salesforce. No need to do costly software integration.
Voicent CRM is great for
Helping organizations identify and better understand customer needs by keeping track of customer interactions and displaying them right at the point of future contact.
Providing a professional and credibility-enhancing contact experience for prospects and customers.
Designing and managing various marketing and sales campaigns by saving call status and customer choices (such as opt-out) automatically.
Serving customers better by automatically sharing customer contact information among different agents of an organization, increasing organizational intelligence and efficiency.
What do I need to run Voicent CRM?
A desktop or laptop computer with any Windows operating system.
How to use
Simply install Voicent CRM and enable it from the Voicent Gateway. Once enabled, it will run in the background.
From the Voicent CRMprogram window, you can:
Create, edit, and search customer information.
Import customer profile information.
Create inbound/outbound campaigns using IVR Studio, BroadcastByPhone, AgentDialer, BroadcastBySMS, or BroadcastByEmail.
Next Step
It's absolutely free to download and try Voicent CRM. You don't need a credit card or even to supply an email address to try it.
Call Center CRM