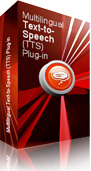 $249


Advantages of Voicent's
Text-to-Speech Plug-In

One time purchase, use forever
No monthly fee, no contract
Works on any PC
Feature rich and yet easy to use
You can try it before you buy it

Find out more
Learn More

What is TTS?
Text-to-Speech (TTS) is also called Speech Synthesis. It is the computer-generated voice that simulates human language pronunciation. For telephony applications, especially for regular telephone systems that do not have text capabilities, speech synthesis converts text to voice and then plays it over the phone.
What is a voice synthesizer or TTS Engine?
The two characteristics used to describe the quality of a speech synthesis system are naturalness and intelligibility. The naturalness of a speech synthesizer refers to how much the output sounds like the speech of a real person. The intelligibility of a speech synthesizer refers to how easily the output can be understood. The ideal speech synthesizer is both natural and intelligible, and each of the different synthesis technologies try to maximize both of these characteristics.
What is Speech Recognition?
This is the opposite of speech synthesis. Spoken voices are converted to text by a speech recognition engine.
Overview
Voicent's Multilingual Text To Speech (TTS) Plug-in converts text to computer generated voices in real time. The multilingual capability supports all TTS voices including English (American or European), Spanish, Italian, Chinese, German, Greek, Japanese, French and many more.
You can combine TTS messages with pre-recorded messages to create a personalized message for each phone call. TTS eliminates the burden of recording variable information, such as names, account balances, delivery dates, etc.
TTS Plug-in can dynamically generate voice message and is used when you simply do not want to use your own voice. Voicent TTS Plug-in is the most cost effective way to generate personalized voice messages. It can convert a single voice engine to serve multiple voice sessions (simultaneous phone calls).
Multilingual TTS Plug-In
A TTS voice engine cannot be directly used by Voicent programs. To convert text to voice, you must have Voicent TTS Plug-In to
Enables a TTS voice for automated phone calls.
Converts a single TTS voice engine to multiple voice channels simultaneously.
TTS voice engine
Voicent TTS Plug-In does not include a specific voice. Microsoft Windows operating system provides free TTS voices. If these voices do not meet your quality expectation, there are many high quality TTS voices provided by AT&T, Nuance, Neospeech. For example, you can check out some voice demo at Cepstral Voice Demo. Voicent TTS Plug-in requires 8KHz, 16bit, mono output format. But some 16KHz voices, such as AT&T Crystal 16 voice, are able to produce 8KHz voice also.
Blank