Visual Reports
Voicent PBX is unique in that you can get visual reports on the performance of your business' phone system. Get daily call volume reports, agent reports, and industry-standard CRM reports simply by clicking a button to generate your visual reports.
Historical CRM Reports
In addition to real-time reports on your PBX, you can get historical reports using the built-in Voicent CRM data. You can save these reports on your desktop or access them anytime through the Agent Dashboard™.
Agent Sales Reports
To measure your agents' productivity and success in closing deals, simply visit the CRM Reports page on the Agent Dashboard and click on the report you want to generate. You can view sale amounts based on agents in a bar chart, pie chart, and more.
Export Data
When you generate reports, you can export this data for further analysis in software like Excel spreadsheets. Data file sheets are exported in .csv format.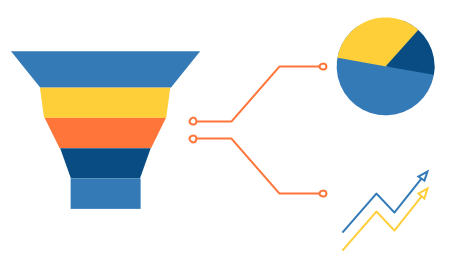 Reports Based on Time Period
To better track trends and the success of campaigns, you can generate reports based on specific time periods.
Call Center Manager
Call Center Manager is Voicent software that allows managers to record agent calls, whisper coach, control call volumes, view line usage, and see real-time agent productivity reports.
Sales Funnel
View how many customers are currently in different stages of your company's sales cycle with the sales funnel report. This report will display the total number of people assigned to the specific sales position categories including custom fields; you can quickly find bottlenecks with this report.
Inbound Phone Surveys
Voicent PBX can conduct inbound phone surveys. Simply have your callers stay on the line after, say, a technical support call, and forward them to a multi-level Auto Attendant. This multi-level Auto Attendant is your inbound phone survey and can ask questions such as, "On a scale of 1 - 5 on your keypad, how satisfied are you with our customer service?".