Voicent PBX
About PBX
PBX Feature Tour
Quick Questions
What is a PBX?
A private branch exchange (PBX) is a telephone exchange for a particular business. A PBX system connects incoming telephone lines to a set of extensions inside a business.
What is VOIP or IP PBX?
VOIP PBX or IP is a PBX system that can handle calls on an IP network. It supports outbound connection to a SIP trunk or regular trunk; it also supports IP extensions. Most VOIP services provide regular telephone numbers to allow calls from landline or cell phones. The person who calls these numbers usually cannot tell the difference whether the call is make to a VOIP service or traditional PSTN service.
What is Voicent's Flex PBX?
Flex PBX is an affordable and easy to use auto attendant software system. Because it is a software package, it offers flexible configuration and unlimited design capability. It has all the features of a traditional PBX plus much more.
What is an Auto Attendant?
Also known as a Virtual Receptionist, it allows callers to be automatically transferred to an extension without the intervention of a live operator. Typically the Auto Attendant is included in a business phone system.
What is an IVR Menu?
A phone system menu that interacts with humans through the use of voice and DTMF keypad inputs. Auto attendant is a special kind IVR, where the target operation is the transfer of a call to an extension. IVR can be more broadly defined. It can interact with a database to supply requested information such as account balances, etc.
30-Day Free Trial
Voicent PBX: IVR Studio
Voicent IVR (Interactive Voice Response) Studio delivers high-quality caller experiences by enabling you to easily build logical, fast, crystal-clear navigation of phone system menus and options.

From simple call flow to incredibly powerful connections to web applications and other tools, IVR Studio simplifies business integration and increases flexibility.

Voicent's IVR solution offers point-and-click call flow design, easy installation and low cost.

Based on internet standards, Voicent IVR Studio is extensible and allows integration with existing websites and custom-developed Java classes, which enables independent developers to extend Voicent IVR solution to meet unique business needs.

As with all Voicent software, you buy it once and own it for life. Because there are no monthly fees or per-call charges, you get the highest Return-On-Investment (ROI) and the lowest Total Cost of Ownership (TCO).

Learn more about IVR Studio.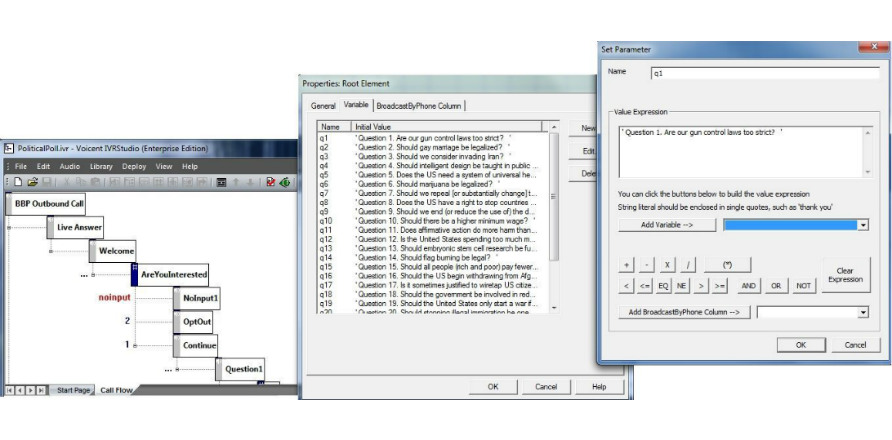 Create Powerful IVR Applications With Voicent IVR
Inbound IVR Systems
24/7 Self-Service
Phone Menus and Call Routing to ACD
Voice Mail to Email
Call Queues, Music On Hold
Call In Surveys
Support Ticketing Systems
Outbound IVR Systems
Dial Out Surveys
Delivery Notifications
Shipment Tracking
Account Activation and Updates
Subscription Renewal
Pre-Sales Qualification Questionnaires