Your Next Generation Call Center Is Here
More affordable. More portable. More effective. More efficient. More productive. What more could you want?
Voicent's products meet the needs of the new generation of VoIP-based call centers, eliminating costly overhead such as hardware acquisition and maintenance, automatically monitoring and managing resources to meet regulatory requirements and campaign goals.
With Voicent's native VoIP tools, the number of lines that you can run simultaneously is infinite, and our networked solutions mean that your staff can work from anywhere there is access to a computer and an Internet connection.
Thousands of simultaneous calls on an ordinary laptop or desktop computer: Voicent's 8.5.0 release includes dramatic improvements in computing-resource usage that enable typical computers to handle thousands of simultaneous out-bound and in-bound calls without impacting call quality. These changes establish Voicent software as a professional Call Center-grade solution, capable of supporting any sized Call Center.
That means Voicent provides incredible value and scalability. Voicent's intuitive, easy-to-use design and affordable price makes it a great solution for small businesses and start-ups.Voicent's software requires no special hardware, making it incredibly inexpensive to install and maintain. Because Voicent's products don't require the use of fixed phone ports on a physical hardware card, adding additional agents is quick, easy, and affordable. As your business grows, you'll know that Voicent will be able to easily grow with you.
All of our products are sold with simple buy-it-and-own-it-for-life licensing. Our products have no monthly, annual, or per-message costs or fees.
Call Center manager
Automatically measure and manage regulatory compliance,
call center efficiency, and campaign productivity
Ensure regulatory compliance by automatically measuring and adjusting the pace of outbound calls, keeping within strict federal limitations on Dropped and Abandoned-Call rates.
Quick and easy call monitoring and recording, and "whisper coaching" to speed quality and effectivenes of new agent training.
Tracking, collecting and statistical reporting of call volume, line usage, dropped-call rates, current and historical campaign performance. Lets you measure it so you can manage it!
call center Agent Dialer
Predictive dialer allows your closers to focus on making sales
The virtual nature of the system also means that your call center agents can work from anywhere there's an Internet connection.
With Voicent's AgentDialer, setting up multiple campaigns is as simple as a mouse click.
AgentDialer can be easily integrated into any existing database or CRM software, and can be used to record calls, log campaign statistics, and transfer calls between multi‐tiered agents.
Can handle thousands of simultaneous calls from a single computer.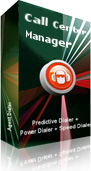 Call Center Manager
Automatically meet regulatory requirements while managing call center effectiveness and efficiency.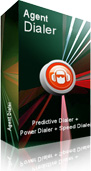 Agent Dialer
Automatically dial, then disconnect or leave message on machines while handing you only the calls answered by live persons.
Call Center Broadcast Suite
For Broadcasting Voice, Text, And Email
Voicent's broadcast suite of tools are completely automated message delivery systems. Once started, there is no human intervention ever needed, it can stop itself once it reaches designated blocked evening hours, and it can even reschedule itself to continue next day broadcast.
The system can collect touch-tone responses so your agent only talks to prospects who are interested in what you have to offer.
The touch-tone key can also be used for removing someone from the call list automatically.
Fully integrated with Voicent IVR Studio, so your outbound campaign can handle multiple levels of questions and answers, automatically update your customer database, and automatically send out email if certain triggers are met.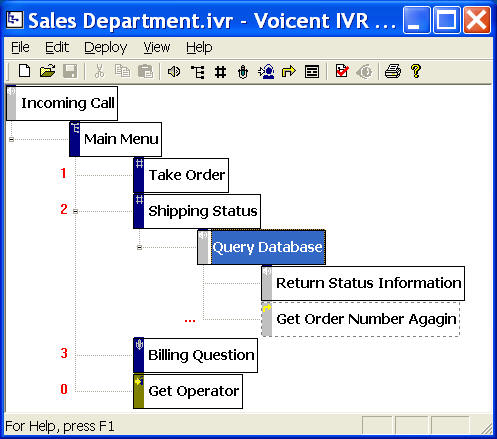 Inbound Call Center
Give your Customers The Best Phone Experience Possible
For inbound-oriented call centers, Voicent's IVR Studio and its point-and-click interface, offers an easy but sophisticated way to manage your calls, including skills-based call routing, text-to-speech, CTI screen pop, and more
From simple call-flow menus to incredibly powerful connections to web applications, CRM applications, ERP applications, and other tools, IVR Studio simplifies business integration and increases system flexibility. The inbound call center voice and SMS applications you can design with it can be fully integrated into your existing IT infrastructure and business processes.
Based on internet standards, Voicent IVR Studio is extensible and allows integration with existing websites and custom-developed Java classes, which enables independent developers to use Voicent IVR Studio to meet unique business needs.
Use GUI point-and-click interface for standard call flow design, or use HTTP or programming API for deeper integration with your existing IT infrastructure.
Call Center Software