Setup Voicent To Use Your Phone Service
This article is meant to guide you through the process of setting up your phone service inside the Voicent App, whether it's a VOIP service, PBX Extension, or Analog Phone Line.
If you already have a phone service, you can follow the Phone Call Setup Wizard inside the Voicent App pictured below. If you don't have a phone service yet, feel free to take a look at your options listed further down the page.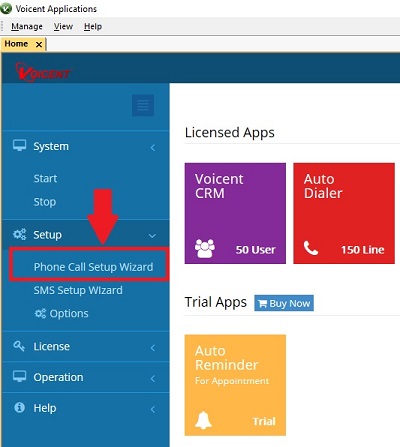 You can also click Setup > Options > SIP > Add to add a new phone service to the Voicent App. If you don't have a phone service yet, continue reading further.
Set Up Voicent To Use A…
VoIP, PBX, SIP trunk, or Analog?
The easiest setup is through a SIP-based VoIP phone service (such as SkypeConnect or Callcentric),
or through a SIP Trunking service (such as Broadvox or Bandwidth.com).
When you use a SIP-based VoIP service or SIP Trunking service, you'll get:
Easy installation and setup – No hardware required; just download the software and setup in minutes
No need for physical phone lines – all you need is internet
Unlimited scalability – supports simultaneous calls up to as many as your computer allows
Variety – you have many choices and can easily switch among them
---
If you don't already have a phone service, let's explain the choices available:
VoIP Phone Service.
There are many providers, such as
CallCentric, Skype, RingCentral, Packet 8, Vonage, Nextiva, ViaTalk, Gradwell, FreshTel, i2Telecom, Rapidvox, Broadvoice, DiamondCard, CallWithUs, and many others.

Voicent strongly recommends the use of a SIP-based, business-quality VoIP service.
Although many providers, such as Skype and CallCentric, offer free services,
you will find more professional features, fewer limitations and better connection quality if you choose
business-oriented servce levels such as Skype's SkypeConnect or CallCentric's
Pay Per Call service or one of its monthly subscription plans.

SIP Trunk Service.
SIP-based business phone services such as Broadvox, Bandwidth.com, and many others provide large-scale, specialized VoIP phone connections for enterprise users.
PBX System that supports IP phone.
Almost all major PBX systems, such as Cisco, Avaya, Asterisk, Mitel, Shoretel, Ipitomy, Talkswitch and many more, now support IP phones.
---
VOIP, Softphone, SIP, and DID defined
VoIP stands for Voice Over Internet Protocal. VoIP allows you to use your computer to make telephone calls over the internet. With VoIP you don't need a physical phone line or a physical telephone. All you need is a computer headset and an internet connection.
A softphone is a software program that acts as a phone, providing a telephone-like interface you can use to make or receive phone calls. Softphones are typically used with a headset (combination earphone and microphone) or with a USB phone.
SIP stands for Session Initiation Protocol. It is a software application standard for VoIP. A SIP phone is one of the most common types of softphones.
SIP Termination is a VoIP service feature that allows you to call both local, long distance and international phones and cell phones directly from a SIP softphone. SIP Origination is a feature that allows softphones to receive such calls.
DID stands for Direct Inward Dialing Number. The number looks exactly the same as a regular phone number and it allows anyone to call your SIP softphone from a landline or mobile phone.