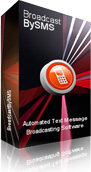 Starting From:

$399


Advantages of Voicent's
BroadcastBySMS
bulk text messaging software

One time purchase, use forever
No monthly fee, no contract
Setup in less than 10 minutes
Works on any PC
Works with your own texting plan
Feature rich and yet easy to use
You can try it before you buy it

Find out more
Learn More

What's so great about texting?
Because people tend to keep their mobile phones on their person, text messages are typically retrieved much more regularly than email or answering machine messages.
Text messages are not as intrusive as a cell phone call
Text messages are retrievable, which means that important dates, times, telephone numbers, websites or whatever information you're sharing with recipients can be kept until needed.

SMS/Text Messaging
Commonly known as "texting" SMS or Short Message Service, delivers text messages to mobile phones. The near instantaneous, personal delivery, retrievability and non-disruptive nature of text messages has made them the single most popular communication mode in the world--particularly among young and tech-savvy people.
Interactive Text Messaging
A text message itself is not interactive. In order to process replies automatically, software products must handle them in a meaningful way ('001' means vote for candidate one). Once a reply is understood by the software product, further communications can resume.
2-Way SMS Gateway
It means the gateway hardware/software can send and receive text messages. It is not necessarily interactive.
Voicent Broadcast By SMS
Voicent BroadcastBySMs is an interactive SMS broadcast software. It does not require you to sign up with a SMS center but can use your own text plan to send out messages. The key feature is its Message Designer and automatic processing of replies. For example, once the software gets a reply of "Yes', it can send further info to the person automatically.
BroadcastBySMS Frequently Asked Questions
What do I need to run Broadcast By SMS?
A Windows desktop or laptop computer
A text message plan from a mobile phone company like AT&T
A GSM SMS modem or a smart mobile phone.
How do I set it up?
Download and install BroadcastBySMS software
Take out your mobile phone's SIM card and insert it into the GSM modem.
Plug the modem into your computer's USB port.
Specify the COM port used by the modem for Voicent Gateway. You only need to do this once.
Load you phone list and click the send button.
Can I use my cell phone with BroadcastBySMS?
It depends on your phone. The requirement is that the phone supports the following SMS standard: GSM 07.05 Phase 2.
To test your cell phone, connect your cell phone to your computer, usually through a USB cable. Please check with your cell phone user manual for more details. You may need to install your cell phone driver.
Second, you may use Windows HyperTerminal to test your cell phone by using the following AT command: 'AT+CSMS'. Please check with your cell phone manual or online AT command reference for more details.
Many of the Nokia GSM phones are known to work with SMS software.
.
What is so special about Broadcast By SMS?
The key feature is interactive text messaging. This capability, along with the message customization feature, allows the software to process text responses automatically.
In addition, by using Voicent IVR Studio, you can set up inbound text message applications. For example, you can setup the system to send text information about product A when receiving incoming text '123' and send text information about product B for incoming text '345'.
The second special feature is that Voicent text software does not require you to sign up with a SMS center. The software uses your own text plan from a cell phone company. It is the same as you sending out text messages from your cell phone..
Can I use BroadcastBySMS for marketing purposes?
Yes, but because of the personal nature of cell phones (and the fact that many people must pay for or have limited allotments of text messages) marketers should use this technology the same way they use fax and email technology--through opt-in programs in which recipients specifically ask to receive messages in that format.
How do I create personalized and interactive text messages?
It's easy. BroadcastBySMS includes a built-in Message Designer that enables you to easily create personalized messages that, for example, make references to individual recipients' names, companies, titles or whatever personalization you prefer. Click on the program BroadcastBySMS -> Help -> Product Walkthrough...for detailed information about creating customized or interactive messages.
It's absolutely free to download and try Voicent's BroadcastBySMS text messaging software. You don't need a credit card or even to supply an email address to try it.
SMS Text Message Software