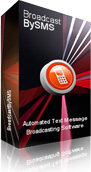 Starting From:

$399


Advantages of Voicent's
BroadcastBySMS
bulk text messaging software

One time purchase, use forever
No monthly fee, no contract
Setup in less than 10 minutes
Works on any PC
Works with your own texting plan
Feature rich and yet easy to use
You can try it before you buy it

Find out more
Learn More

What is SMS/Text Messaging?
Commonly known as "texting," SMS (Short Message Service) delivers text messages to mobile phones. The near instantaneous, personal delivery, retrievability and non-disruptive nature of text messages has made it the single most popular communication mode in the world--particularly among young and tech-savvy people.

What's so great about texting?
Because people tend to keep their mobile phones on their person, text messages are typically retrieved much more regularly than email or answering machine messages. That makes text messages excellent for communicating time-sensitive information.

Text messages are not as intrusive as a cell phone call.

Text messages are retrievable, which means that important dates, times, telephone numbers, websites or whatever information you're sharing with recipients can be kept until needed. Text messages are also affordable and available all around the world.
What is Interactive Text Messaging?
A text message itself is not interactive. But texting can become interactive if you assign specific words or numbers to specific requests or actions.

For example, "reply with the word 'yes' and we will email you details on this offer," would allow the recipient to request more info.

Replies can represent answers to survey questions, satisfaction ratings or whatever information you would like to collect from recipients.
What does Voicent bring to the SMS party?
Voicent BroadcastBySMS allows you to easily broadcast customized text messages in bulk, meaning each message can include information specific to each recipient, such as names, account balances, product names, project tasks or any other information.

Voicent's built-in Message Designer enables you to easily customize your text message for each recipient.

Using Voicent's separately sold IVR Studio, actions requested through replies can be automated. For example, documents could be emailed or databases could be updated without any human intervention.
Is it legal to use SMS for marketing purposes?
Yes, however, because of the pricing plans of some cell phone users, unsolicited text messages may not be welcomed. Marketers should pursue SMS marketing the same as fax or email marketing is pursued--through opt-in programs in which customers specifically grant organizations permission to send them marketing messages by SMS.

More information about the legal and ethical use of SMS marketing can be obtained by visiting www.mmaglobal.com.
What is a 2-Way SMS Gateway?
It means the gateway hardware/software can send and receive text messages. It is not necessarily interactive.
Editions & Key Feature Comparison
| | | |
| --- | --- | --- |
| Broadcast By SMS Key Feature | Professional | Enterprise |
| Easy download and setup in 10 minutes | | |
| Works on any Windows desktop or laptop | | |
| Works with your own text messaging plan (must be GSM-based carrier) | | |
| Send bulk text messages with a single click | | |
| Easy-to-use spreadsheet user interface | | |
| Call list import and export | | |
| Report real-time call status with time stamp | | |
| Allows recipient to send response back and displayed in the status column | | |
| Remote access, works on the server computer or remote computer | | |
| Contact list database sharing among computers | | |
| Developer feature: Command line interface | | |
It's absolutely free to download and try Voicent's BroadcastBySMS text messaging software. You don't need a credit card or even to supply an email address to try it.
SMS Text Message Software