Shopping Cart (0)
Payment methods
For your convenience, we accept all payment methods.
Buy at Online Store
AmericanExpress
PayPal
Visa
Mastercard
Check payment
Mail your check to:
Voicent Communications
PO Box 986
Los Altos, CA 94023
United States

Purchase Order
Purchase Orders are accepted only from U.S. government and public entities. Please scan your PO and email to: sales @ voicent .com, or fax to 1-888-522-1098
Pay by Phone
Call: 408.260.5811
Business hours:
8:30am - 5pm PST
Monday through Friday except
major U.S. holidays
Bank Wire Transfer
please contact: sales @ voicent .com for wire instructions.
Company Policy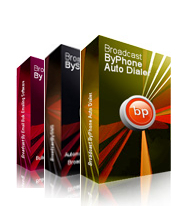 Broadcast Suite
BroadcastByPhone, BroadcastBySMS, BroadcastByEmail
$995
Equip yourself with the best-selling communication tools to grow your business and organization. Voicent Broadcast Suite contains the essential software for broadcasting your message by phone, by text message, and by email. This suite represents $500 savings compared to purchasing these tools individually.


Business Phone, Dialer, Text Message, Email Product, Online Store