Release 10.5.1: Automated customer satisfaction survey by phone
Many businesses and call centers now require the capability to take an automated survey immediately after a phone call is finished by a sales or customer service staff. In addition, it is particular useful for an agent to transfer a live call to an automated IVR application. With the release of version 10.5.1, it is really easy to set it up.
Step 1. Design an IVR app for the survey
In this example, we design a simple inbound IVR application called "customer survey" as shown below. Once finished, deploy it to the gateway.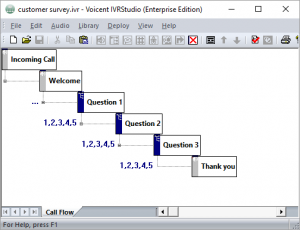 Step 2. Enable Transfer from Agent
You may have multiple auto attendant applications and IVR applications, enable the one that agent can transfer call to.
Choose Setup > PBX > IVR App from the main menu. Click the Edit button in the box labeled "Transfer to IVR".
Step 3. Agent Dashboard
Now, your agent should be able to transfer to the IVR survey from Agent Dashboard. Simply click the transfer button, then select as shown below: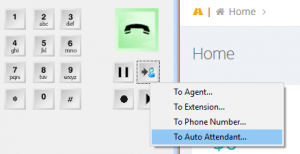 Survey Report
You can access your survey report right from the campaign sections, including analysis of survey responses.