Manage Do-Not-Call and Opt-Out
Automatic Opt Out Management
All you need to do is design a message template that set a certain key press to opt out.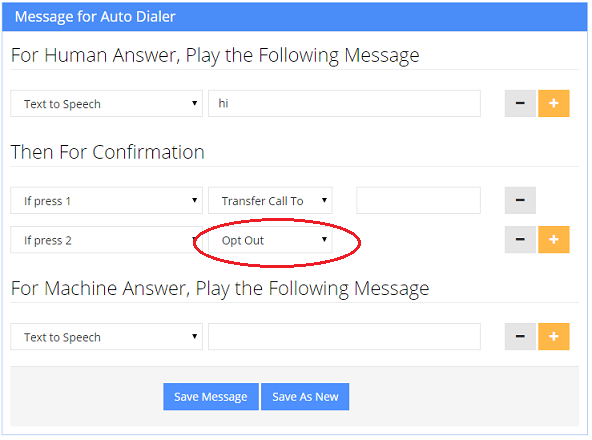 When this message template is used, and the corresponding key is used, the contact's CRM record is automatically set to "Do Not Call" as shown below.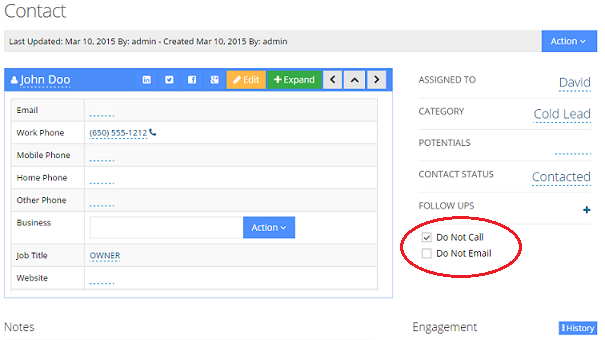 Any outbound campaign automatically ignores a CRM record if the Do Not Call field is checked.
Manage Do-Not-Call List
For telemarketers, there are strict laws regarding the use of an auto dialer. The two main federal government agencies that enforce federal Autodialer Law are the Federal Communications Commission (FCC) and the Federal Trade Commission (FTC). For more info, please consult your local attorney who is familiar with both Federal and State laws.
If federal or state Do-Not-Call rules apply to your situation, you should scrub your call list before importing.
Voicent BroadcastByPhone software does contain a Do-No-Call scubber. However, starting from release 10, this desktop software is considered a legacy tool. You can still use this tool but no support will be provided. For online support, please see Legacy Tool Support : BroadcastByPhone.
Comments