Handling Calls
Agent Dashboard™: Making Outbound Calls
Chances are, your agents need to make outbound calls as well as inbound calls to close more deals and drive sales. Voicent software gives you the flexibility to use shared phone lines and extensions to make outbounds calls, and the Agent Dashboard™ allows you to quickly dial any phone number.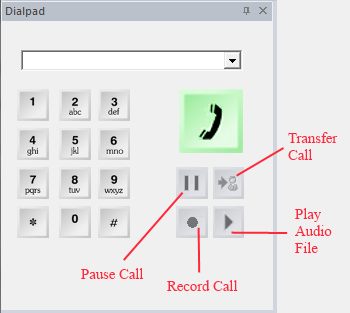 Making Outbound Calls with the Dialpad
Using the dialpad on the left side of the dashboard, type in any phone number and press the green phone icon to make a call.
You can eliminate time-consuming and error-prone hand-dialing by using the Agent Dashboard's dialpad. Phone numbers in the built-in CRM are displayed as links, so that your agents can click on these links to instantly dial the phone number.
Agent Dashboard™: Handling Inbound Calls
In the call control panel, agents can transfer or conference a call, record conversations, hold or park calls, and click to play audio files over the phone to answer repetitive questions. Agent statuses are displayed in the call forwarding screen, showing all agents who are currently unavailable, busy, or available to take calls. By using the Agent Dashboard and a headset to talk over the phone, your agents can access everything in one place, hands-free.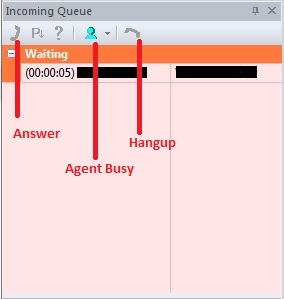 The incoming call queue lets Agents know who is calling them, and also provides some call queue management tools. Agents have the ability to load CRM data before answering the call by clicking on the "?" symbol, which pulls the CRM record associated with the phone number. Agents can also mark themselves as busy to avoid taking calls from a campaign during a break.