Creating Landing URLs
A Landing URL doesn't sound like much, but it can have a huge impact on your business and how you manage leads. A landing URL provides tracking capabilities across your website for your leads and customers so that you see exactly what products or services they're interested in. Automated information acquisition can be leveraged by your sales teams to improve the quality of their engagements. That means time saved for you, and the customer.
A sales team that can see customer engagement with the website provides the insight necessary to offer information the customer missed, or deals the customer might not be aware of. This improves the overall experience for the customer and the sales person.
Under Setup -> Website -> Landing URL you will find the option of defining a landing URL. Click "+Add" to setup a new Landing URL.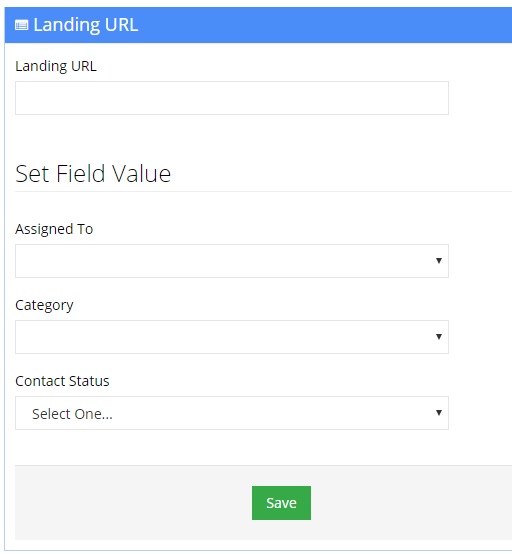 Enter in the web address of the landing URL you want to use. This is the URL you are going to put the tracking code in. Much like the web form, you can also automatically set the CRM fields of customers or leads who land on this page, such as assigning them to an agent or changing their category and contact status. Once you have typed in a URL and set field values, click "Save." Then you can click "Get Javascript" to automatically get the javascript code required to track customers.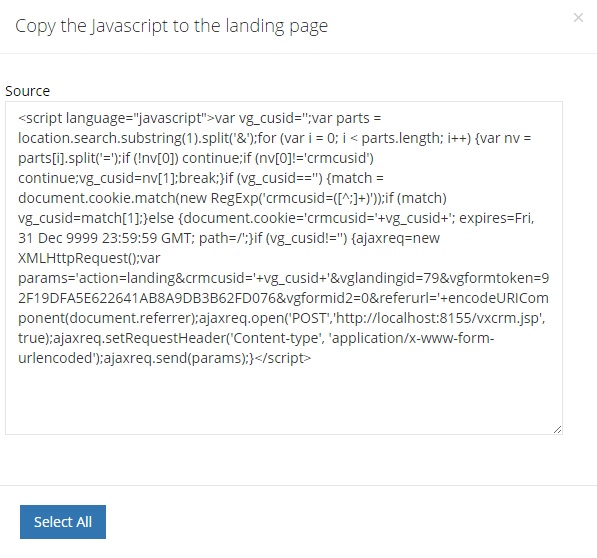 Simply copy and paste this javascript code in the "head" section of the landing URL you specified earlier. You will also need to change "localhost" to the external IP address of the Voicent App software, unless Voicent and the website are hosted on the same machine (confused? we offer professional setup services). After doing so, you will be able to track your customers and collect detailed information like what products or services they're interested in. This gives your inbound and outbound sales teams much more information to work with, allowing them to use more specific sales pitches and other tactics to ensure the customer's needs are met.