Campaign Events and Actions
When using automated workflow tools, you want to create a process that will reduce the amount of routine tasks required of you and your call center employees. With Voicent's Workflow tools you can now create powerful workflow automation that responds to events like campaigns starting, stopping, and finishing.
Before we go into detail, lets briefly establish the difference between stopping and finishing:
Stopping: this is when a manager manually stops the campaign by pressing the stop button.

Finishing: this is when a campaign has reached the end of its call list.
Now that you understand the difference, lets go over how to take advantage of these events in your daily routines.
Usage
Campaign events are designed to increase the flexibility of agents and managers. Using campaign events you can create personalized notifications for agents when campaigns start or stop, so they're always in the loop. To do something like this, make a Workflow Trigger. When you're selecting the event that activates the trigger, select Campaign Finished. Your workflow should look something like this: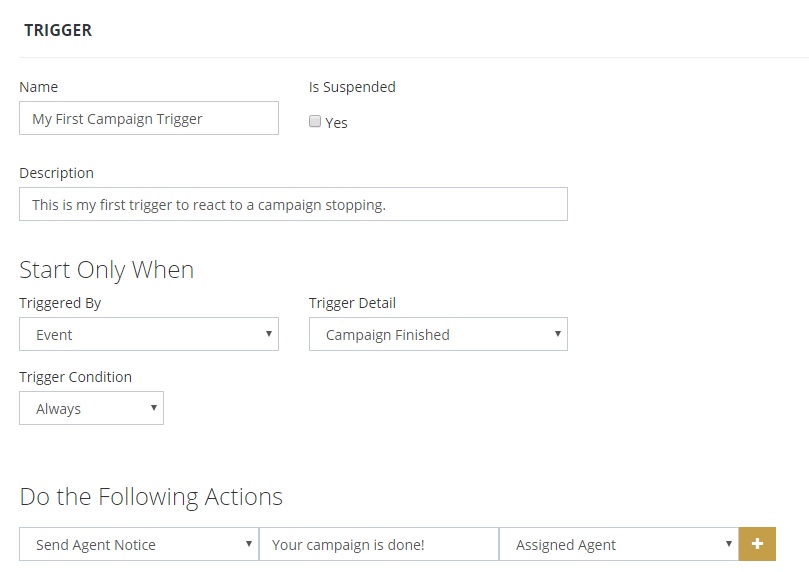 Reacting to campaigns is an important part of any call center, but why do it manually? This is where campaign actions come into play. Campaign actions are automated interactions with campaigns that let your call center react as quickly as possible to changes that matter most. Take the following example:
Web forms and inbound callers are often entered into CRMs mid-campaign, and your call center needs to react to this effectively. With a simple workflow trigger, you can capture the leads that matter most and put them directly into existing campaigns. Take a look at the following Trigger that puts new leads into the appropriate campaign:
Now that you've seen how manageable campaigns are with our workflow tools, implement some Triggers of your own and see how time and effort can be saved using automation.