Predictive Dialer Setup
We have help content both online and within the program. The following content is also covered in the Voicent Agent Dialer Setup Guide, which can be opened under the program's main Help menu.
The setup mainly involves:
Installing the Predictive Dialer on a Dialing Computer
Download Voicent software installer and follow on-screen instructions to install Voicent Communications software on a computer. We have downloading and installation guides available if necessary. This computer will make all the outbound calls.
For those interested, here is an article on how to set up a remote agent on our Agent Dashboard software.
Configuring the phone service
Voicent software can use several phone services: VOIP phone service (such as SkypeConnect, Vonage Softphone, Callcentric, any SIP trunk provider, etc); a PBX system with SIP extensions (such as Cisco, Avaya, Asterisk, etc); or a traditional analog phone service. To learn more about how to setup VOIP/SIP accounts within the Voicent Application, visit this article on setting up VOIP/SIP accounts.
Plug in a computer headset (includes earphone(s) and microphone) and start making some test calls, or take a look at the walkthroughs mentioned below.
Complete Quick Start Walkthroughs
Voicent Communications software has very useful walkthroughs built into the software to teach you the basic functionality. To access these, click on the Walkthrough button after clicking on "CRM" in the Voicent Application: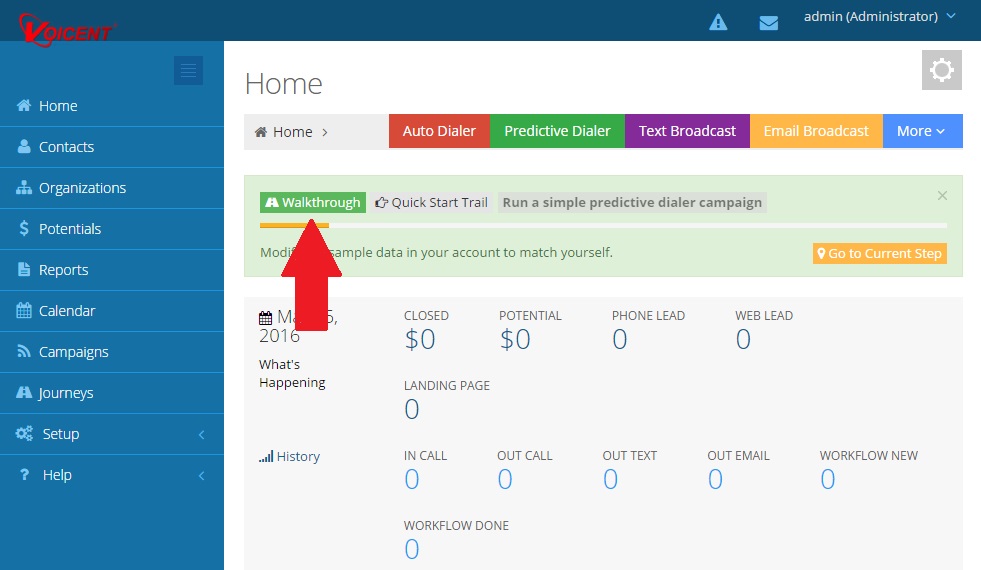 After selecting the Walkthrough button, you'll be taken to our Walkthrough directory, where you can find walkthroughs for all Voicent software and their features. In this case, you'll want to do to the Predictive Dialer Campaign walkthrough. To reach it, click on "Quick Start" (1) and the select "Run a simple predictive dialer campaign" (2)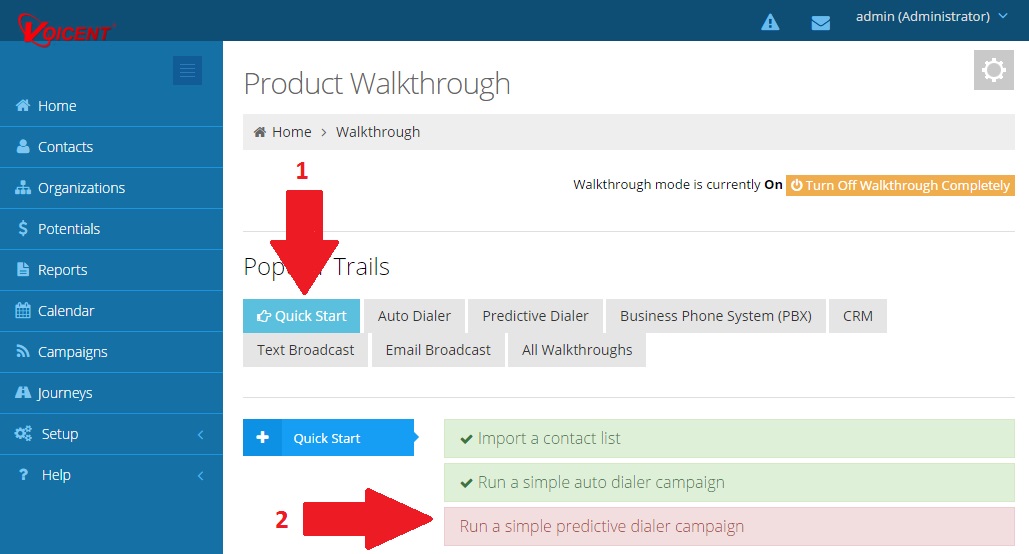 For more information on Predictive Dialer Campaigns, visit this support page.