Advantages of Voicent's
IVR Studio

One time purchase, use forever
No monthly fee, no contract
Setup in less than 10 minutes
Works on any PC
Feature rich and yet easy to use
You can try it before you buy it

Find out more
IVR Samples
Learn More

What is IVR?
IVR - short for Interactive Voice Response - automates interaction with telephone callers. Most people are familiar with IVR applications. These applications allow users to retrieve information such as bank balances, flight schedules, and movie show times from any telephone and without the help of a live operator.
What is Inbound, Outbound IVR?
Most IVR systems are for inbound applications. Voicent IVR solution also supports outbound applications, such as BroadcastByPhone autodialer.
How is Voicent's IVR different?
Traditional IVR systems use proprietary software and expensive telephony hardware. Voicent IVR system is based on VoiceXML, an Internet open standard, so it is easy to integrate with other software applications. It can be deployed on any PC with a voice modem, an off-the-shelf standard computer component. That makes the cost of having your own IVR system extremely low.
How do you integrate IVR with existing systems?
Voicent's IVR platform supports two integration methods--HTTP and Java. With HTTP, an Internet protocol for the World Wide Web, the system can easily connect to any website. For other applications, any program written in Java can be easily integrated using Voicent's IVR software.
Why should I integrate my phone and CRM systems?
Integrating a CRM (Customer Relationship Management) system enables agents to quickly gain access to customer information on inbound and outbound calls, increasing operational efficiency and providing an improved customer experience. For example, with Voicent TelephonyCRM, all calls with caller ID are automatically saved. When a customer calls back, a screen popup with customer profile and call history is displayed on an agent's computer. Based on the customer's category, it can further direct which IVR application to use to answer the call, meaning the call can be automatically transferred to a specific person or department.
What can I do with IVR & Text-to-Speech capabilities?
A flexible IVR system can deliver dynamically generated content, such as account balances, when interacting with callers. The information is relayed to the caller by using a Text-To-Speech (TTS) engine, which reads aloud text in specified data fields.
IVR Studio Frequently Asked Questions
What are the main uses of IVR Studio?
IVR Studio is most often used to customize outbound phone applications, such as Voicent's BroadcastByPhone Auto Dialer and Auto Reminder appointment reminder. The Message Designer included in both of those programs can be used for customizing simple, single-level interaction. For applications to include multiple languages or multiple menu levels, you'll need IVR Studio.
If your customization does not require integration with databases, websites, or software programs, you can create your customization without any programming knowledge. IVR Studio allows you to design a complete interactive application with simple point-and-click ease.
IVR Studio is also used to integrate Voicent inbound and outbound applications with other programs. It has built-in support for accessing databases, SMTP email servers, web sites, and any Java-based programs.
IVR Studio is also used as an inbound IVR deployment platform for interactive voice and text applications. IVR Studio is not only a design tool, it also contains Voicent Gateway, which is a VoiceXML gateway as well as a 2-way SMS gateway.
Where do I start in order to create my own IVR applications?
The best place to start is the IVR Tutorial. The first part contains a user guide for creating an interactive voice or text application using the graphical design environment. The second part is for developers.
A good starting point for your own application is to copy one of the sample IVR applications included in the IVR Studio program. You can open these samples from the Library menu of the program.
How can I configure IVR for my (Cisco/Avaya/Asterisk etc.) PBX system?
The basic idea is to configure the VOIP/SIP extensions of your PBX system, then use Voicent software to manage those extensions. If you have a 4-line Voicent system, you need to configure 4 extensions. In this configuration, Voicent software acts as a set of softphones on these extensions.
To configure these extensions, please check the user manual for your PBX system. Normally you can find sections for configuring extensions for SIP softphones, such as x lite. You can also Google the term "Avaya IP office SIP extension" (or whatever system you're using) for more info. Once you have these extension configured, you should make note of the SIP credentials for the extensions.
To configure Voicent to use those extensions, open Voicent Gateway, select Setup > Options > SIP tab, click the Add button. You should see a dialog window for you to enter the SIP credential of one extension there. (The dialog window looks similar to the configuration window for x lite, so check your PBX manual to see how to enter the SIP credential info). Normally, you need to add separate SIP accounts for each extension.
How can I make the system pronounce "2032345" not as a number but as a telephone number?
There are basically two types of prompts: normal text and audio file. When normal text is used, the gateway automatically converts it to audio using text-to-speech engine. If it is audio file, the gateway simply plays the audio file.
When a variable is used, the gateway may not know what type of item is being referred to. For example, if you use a database operation to get an audio file, and save the audio file path in a variable, then you must specify the type of the variable.
For normal text items, you may also further specify the prompt format: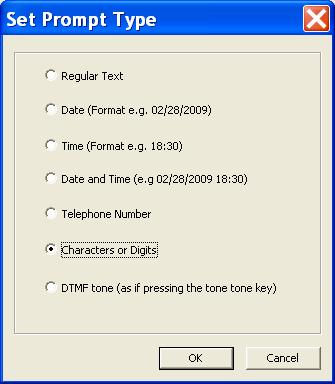 For example, if you have a text item "2032345″the text-to-speech will say it as "2 million ...", but if you specify it as "phone number", then the system will say it as a telephone number; and if you specify it as "DTMF", then the system will send DTMF tones 2032345 (as if you pressed key 2, key 0, and key 3,...).
Should I use IVR Studio or VoiceXML to create my application?
In most cases, you want to use IVR Studio. Not only you will have a clear view of your application, but also you can save a lot of time by not having to type in the low level VoiceXML code.
If you have to dynamically generate VoiceXML code in your application, then you have no choice but to use VoiceXML directly. In this situation, you will still benefit from using IVR Studio. Under the hood, IVR Studio automatically generates VoiceXML files and deploys them to Voicent Gateway. You can use these generated VoiceXML files as a starting point for your program.
It's absolutely free to download and try Voicent's IVR Studio software. You don't need a credit card or even to supply an email address to try it.
IVR Platform and Design Tools FAQ