Auto Attendant Virtual Receptionist
It's the first thing your callers will hear when they call your business, and it's a great way to gain credibility and professionalism. Simply use Voicent Flex PBX Auto Attendant to present your professional business phone system, complete with music on hold, greetings, and a choice of menu options to select.
Voicent PBX Auto Attendant Features
Text To Speech
Automated Speech Recognition
Professional Greetings
Music on Hold
Unlimited Virtual Receptionists
CRM Tracking
Caller ID Recogntion
ACD Call Queues
Voicemails
Voicemail to Email
Web and Database Integration
Point and Click Auto Attendant Design
Creating a Virtual Receptionist to answer incoming phone calls for your business is easy, with Voicent's intuitive point and click interface for menu design. You can create as many Virtual Receptionist as you want, for no extra charge.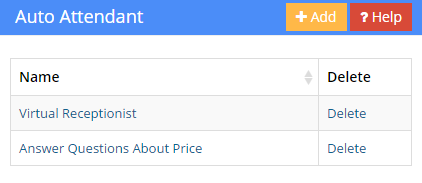 How does Voicent's Auto Attendant Virtual Receptionist Work?
When people call your telephone number, Flex PBX screens and forwards calls to the correct place:
Auto Attendant answers incoming calls, plays music on hold, and plays professional audio file greetings

Flex PBX system automatically answers the call and presents the caller with a welcome message and a list of menu choices. You can design the menu choices any way you want, and even use text to speech to speak text out loud.

A new CRM record will be automatically created, or updated if caller has called before

All new callers will have their own CRM records automatically created. Their time/date of calling plus their phone number is stored for future marketing campaigns. Callers who already have a CRM record will have their records updated instead of created. The time and date of their call will be added to their interaction history in your CRM.

Caller selects a phone menu option (Press 1 for Sales, Press 2 for Support, Press 9 for ...)

The caller can press a key to listen to company information such as driving directions or office hours, or to be transferred to an agent or department. Flex PBX will automatically save this choice into the caller's CRM record

OR Caller enters extension to be forwarded directly

The caller can enter an extension number directly to ring a company extension or agent. Flex PBX transfers the call to the extension entered by the caller using their phone keypad.

Flex PBX Auto Attendant forwards call

Now that the call has been screened and CRM information saved, Flex PBX will forward the call to the correct agent, extension, department, group, or to a submenu with more options.