Understand VOIP and SIP
I would prefer to use a SIP based VOIP. I do not understand what that is. Do you have any suggestions?
Basically VOIP service enables your computer to make phone calls to landline or cell phones. You use a soft phone – software that looks like a phone, to talk to the other party using computer microphone and speaker (or computer headset). The following is a picture of a free soft phone called x-lite: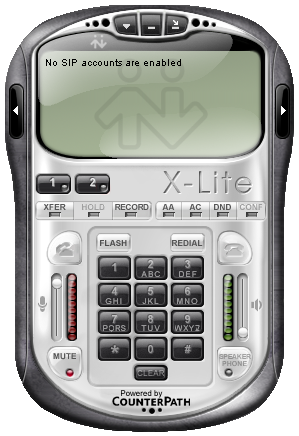 VOIP has a few standard and SIP is the most widely used standard. You do not need to understand what SIP is in order to use SIP based VOIP service. All you need to do is to do google "sip service", "voip service", or "sip trunking", and find a service provider and service plan that fit you best, make sure it allows using your own SIP softphone, sign up, and configure Voicent software to use it. Once it is set up, you use Voicent software the same way as using a traditional phone service.
I have Vonage VOIP now but they won't give me the details needed to set it up
The following is from TMC.net's blog:
"A source informed VoIP & Gadgets Blog that Vonage plans to open up their SIP credentials to enable users to configure their own SIP softphones and SIP hardphones to work with the Vonage service at no additional charge. Today Vonage still has kept the SIP credentials "closed" preventing users from using their own SIP devices with the Vonage service. One of the main reasons why Vonage has kept the SIP credentials "closed" is that they charge $9.99/month for their SIP softphone client, which then gives you access to your "personal SIP credentials". It comes with 500 minutes along with a different SIP URI and PSTN number than your main Vonage phone number. The obvious question is why would Vonage do an about face, open up the SIP credentials and start giving away SIP credentials access for "free" when they curerntly charge for them?
According to the source, he stated that Vonage doesn't make that much revenue on softphone subscribers. But he stated the main reason for the about face is that Vonage is starting to feel strong competition from the MSOs/cable companies, Packet8, SunRocket, and the other VoIP broadband players. He also pointed out that several Vonage competitors already offer SIP credentials, including Broadvoice, SIPgate, and others."
Both Vonage and Skype are moving toward full SIP support. For now, just find a VOIP service provider that supports SIP.
[update: Nov 27, 2009 - It is now possible to use Vonage through SIP. For details, please see configure Vonage SIP]
Do you recommend a SIP service that works with the system
We currently do not have a recommended vendor list. Once we do, we'll listed it here. It is a little difficult to produce one since your needs are different from others. The good news is that there are plenty of VOIP service providers to choose from now.